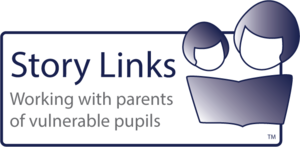 Story Links: Working with Parents of Vulnerable Pupils
3-day course for Behaviour Intervention Teams, Educational Psychology Services, Looked After Children Services and other professionals working with parents of vulnerable pupils.
---
VIRTUAL 3-DAY TRAINING: STORY LINKS
THURSDAYS 18 JUNE, 2 JULY & 16 JULY 2020
As this 3-day online training is a new format, the training group will be limited to 6 education professionals.  
Participants will be expected to set up a Story Links group after day 1 and then to bring case studies to the trainings on days 2 & 3. To run the 10-week Story Links intervention you need an individual pupil + another adult. The training is supported by an online training manual with downloadable resources.
If you are doing home education at the moment, you may wish to run a session with your own child + another adult. You will develop skills that you will be able to take back into school when they re-open. 
Cost: £300 for the 3 days training (9.30 – 3.30)
If you are interested in the online training please request booking details:
admin@TherapeuticStorywriting.co.uk
ALL FACE-TO-FACE TRAININGS HAVE BEEN CANCELLED FOR THE FORSEEABLE FUTURE DUE TO THE COVID-19 EPIDEMIC. 
---
Therapeutic Storywriting course dates
More information about StoryLinks
Visit the Story Links online training manual
---
Courses in Your Area
We can also consider delivering  the above trainings to professionals in your locality. Please contact us to discuss further.