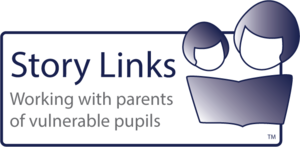 Story Links: Working with Parents of Vulnerable Pupils
3-day course for Behaviour Intervention Teams, Educational Psychology Services, Looked After Children Services and other professionals working with parents of vulnerable pupils.
---
West Berkshire - Jan, Feb & March 2018
Tuesdays 16 Jan, 6 Feb & 6 March 2018
This course is primarily for the W. Berks Behaviour Intervention Team
Trainer: Dr Trisha Waters
Contact: Kate Pike
Email: Kate.Pike@westberks.gov.uk
Hampshire - Nov, Dec 2017 & Jan 2018
Fridays 10 Nov, 8 Dec 2017 & 16 Jan 2018
Trainer: Jackie Batchelor
Contact: Denise Uren, Hants Educational Psychology Service.
Email: denise.uren@hants.gov.uk
Kirklees - March, May & June 2018
Tuesdays 20 March, 15 May & 19 June 2018
Trainer: Dr Trisha Waters
This course is for the Kirklees LAC team
Contact: Dr Samana Saxton
---
Therapeutic Storywriting course dates
More information about StoryLinks
Visit the Story Links online training manual
---
Courses in Your Area
We can also consider delivering  the above trainings to professionals in your locality. Please contact us to discuss further.