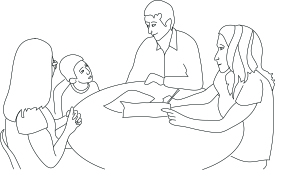 Working with parents of vulnerable pupils
---
Story Links has been very effective here. It's a valuable vehicle for working with parents of pupils at risk of exclusion and especially supports those pupils who also have problems with literacy.
Headteacher, Brighton
---
 Story Links extends the work of the Therapeutic Storywriting group model to include parents of vulnerable pupils.
For many of these pupils the emotional difficulties that are getting in the way of their learning are related to attachment difficulties. Story Links uses therapeutic storywriting to address behaviour issues, support positive attachment and improve pupils' reading. It is a solution-focused systemic programme delivered in weekly sessions in which the parent/carer and the child are facilitated to co-create a story which is then used as the child's reading text during the week.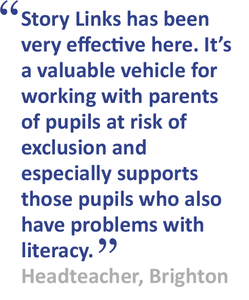 Research funded by the TDA and conducted by the University of Chichester shows that Story Links improves parental engagement with their child's learning, reduces exclusion from the classroom and improves pupils' reading.
---
Training
Course content 
attachment theory and implications for learning in the classroom
strategies to include  the 'hard-to-engage' parent
emotional significance of story metaphor
establishing an emotionally containing environment for parents and pupils
delivery of  the 10 week Story Links intervention
Target group
SEN teachers, SENCOs, inclusion support teachers & school counsellors working with parents of vulnerable pupils at KS 1 & 2.
Course duration
3 days
The training course is supported by an online training manual: www.storylinkstraining.co.uk